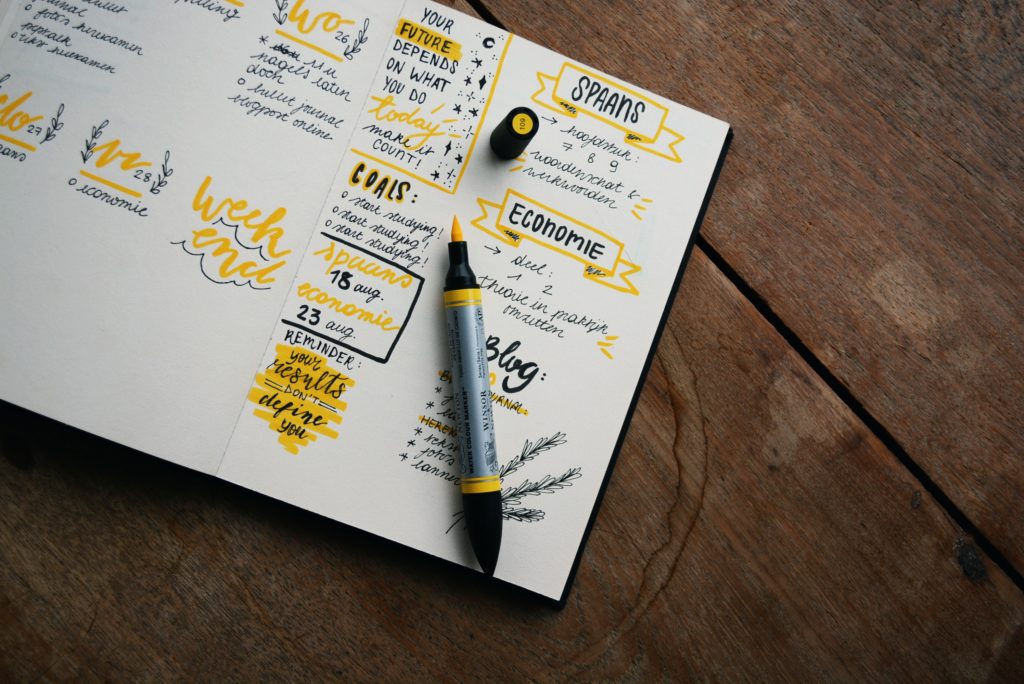 Social media content planning can be difficult, but don't throw in the towel just yet. The first step to effective content planning is to start! This can be done using pen and paper or an online content template.
When I don't know what to do, I collect information until the decision becomes easy. If you're just starting out, collect information on your audience and your competitors. If you're an established business, have a look at your own numbers e.g social media analytics etc, find what is your normal and where you want to be.
For ideas and content links, you can use Notion, a cross-platform organisational tool. You can drop links, have lists or notes, all on your phone or in your browser.
If you're like me and prefer pen and paper, I use these social media planners, the ones for next year look lovely: My social media planner.
If you like everything online, there's Trello. The free plan is super useful for teams to collaborate or to organise your content. Here's a link to a social media template: Trello template
Audience
When planning your content, you need to keep your audience in mind. What do they want? What do they need? Build out a detailed customer avatar, create a file on them and include lots of personal details about them: Who are they? What are they like? Where do they hang out? This will make it easier for you to plan your content out. Build your goals around your audience, make them S.M.A.R.T! (Specific, Measurable, Achievable, Relevant, Timely).
Once you have defined your audience, it's important to identify or remind yourself of your brand personality. Brand personality refers to human characteristics that define your brand which are communicated through adjectives e.g reliable, creative, current etc. If you don't know your brand's personality, how are your customers going to know?
To find your brand's personality, think of your business as a person, what are their interests? What are they like? How do they talk to people? To help identify your brand personality, use the dedicated 'business personality' section in our social media planner, here you can choose three key traits of your brand personality to adhere to. Your brand personality will help you to break through the noise.
Creating Content
So you know the sort of content you want to post and have scheduled it into your content plan. But what is the best way to actually create that content? Canva is a great place to start! It's a graphic design tool that includes loads of easy to use features, allowing you to create engaging content that can be shared from anywhere at any time. We like to use it to design Instagram posts and stories and to create reel templates.  If you don't use Canva, there are plenty of alternatives, such as Crello.
 It's important to make sure that your content is consistent with your branding.
Scheduling Content
To make your life easier, schedule your content! This means that the hard work of planning, writing, creating graphics and organising hashtags can be done when you have time, instead of on the fly. Try a few scheduling tools and find the one that works best for you, they all have pros and cons. We like the free Later plan, and we also use Canva and GDrive to organise our content and then post natively. Make sure you're using hashtags that work for your brand and try not to use the same hashtags all the time, try a free trial of hashtagify.me or Flick to give your organic reach a boost.
Measuring Success
Check your numbers! Paid plans for scheduling tools usually include their own analytics, and the social media platforms have their own insights which are enough for most people as long as you check them regularly. Make sure you know what you want to measure. This will help you to see what is working for your audience and what isn't. This will help you plan your next round of content.
There's no universal path to follow, make time to plan, block it out in your diary and try different content ideas. Take the time to look at your insights, industry updates and most importantly listen to your audience. Your future self will thank you!